WHAT IS CURCUMIN?
Curcumin is the active ingredient present in the turmeric plant (curcuma longa). VOLT03 offers more than 80 mg of curcumin in each 500-mg capsule.
Curcumin is a natural anti-inflammatory and antioxidant that has also been shown to
boost brain-derived neurotropic factor, which is linked to improved brain function
lower the risk of heart disease
help prevent and possibly aid in treatment of cancer
provide relief for patients with arthritis
possibly help in the prevention and treatment of Alzheimer's disease
WHAT MAKES VOLT03 SPECIAL?
Most curcumin products that are currently marketed do not dissolve well in water or in the stomach, leading to poor absorption and activity.2 VOLT03 is a highly bioavailable form of curcumin. It dissolves completely in water and reaches the bloodstream in high concentration (39 times more than common curcumin). It is therefore more potent.
VOLT03 exhibits statistically significant anti-inflammatory properties, as compared with standard curcumin and a powerful prescription anti-inflammatory product (indomethacin).
VOLT03 possesses pharmaceutical-grade quality for both product composition and manufacturing processes. Herbal dietary supplements are often mislabeled or contain adulterated content, while VOLT03 is highly purified and regulated.
VOLT03 is manufactured according to the Current Good Manufacturing Practice (cGMP) regulations enforced by the FDA and has a "clean label," meaning that the only ingredients in its formulation are curcumin and cyclodextrin.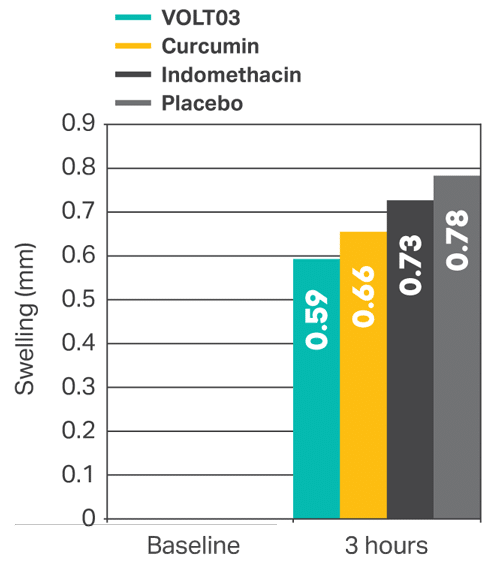 WHAT ARE THE CLINICAL DATA SUPPORTING CURCUMIN AND VOLT03?
Various studies have shown curcumin to be effective in the treatment of Alzheimer's disease, cancer, cardiovascular diseases, and central nervous system disorders; there are currently more than 100 ongoing curcumin trials in humans.2-4
VOLT03 demonstrated a statistically significant reduction in swelling (p<0.05), as compared with standard curcumin, indomethacin, and placebo in preclinical studies.2-4
VOLT03 IN MOUSE PAW EDEMA MODEL
Results: The difference between VOLT03 and curcumin/indomethacin was statistically significant, with p<0.05.
VOLT03 (30 mg/kg) was compared with curcumin (30 mg/kg), indomethacin (5 mg/kg), and placebo in a preclinical mouse paw edema model (n=32)
HOW IS VOLT03 DIFFERENT?
Bioavailability of curcumin remains a concern. Unlike standard curcumin products, VOLT03 has an enhanced bioavailability due to its unique pharmaceutical-grade cyclodextrin complex.1,2
In a human clinical study, a cyclodextrin curcumin formulation was compared with a standardized unformulated curcumin extract and 2 commercially available formulations with reported increased bioavailability: a curcumin phytosome formulation (CSL), and a formulation of curcumin with essential oils of turmeric extracted from the rhizome (CEO). The cyclodextrin-complexed curcumin showed the highest plasma concentrations of curcumin, demethoxycurcumin, and total curcuminoids.5
The formulation also showed a statistically significant increase in relative bioavailability of total curcuminoids in comparison with standardized unformulated curcumin (39-fold), the CSL (4.5-fold), and the CEO (32-fold).5 Due to these enhanced absorption properties, VOLT03 is less frequently dosed and is available in small, easy-to-take capsules.
WHERE CAN I GET VOLT03?
VOLT03 is available at www.nutenttherapeutics.com. Those interested in trying VOLT03 can also talk to their rheumatologist, neurologist, naturopathic doctor, chiropractor, or other healthcare provider. VOLT03 will also be distributed in select pharmacies that can be found on the Nutent Therapeutics website.
WHAT ELSE DO I NEED TO KNOW ABOUT VOLT03?
VOLT03 is dispensed in bottles containing 60 capsules. Samples sent to doctors will contain 10 capsules per bottle. Please contact Nutent Therapeutics at (561) 208-3033 if interested in purchasing VOLT03 in bulk. VOLT03 does not require any special disposal of unused product.
DOES VOLT03 HAVE ANY SIDE EFFECTS?
Curcumin typically causes no significant side effects; however, some people can experience stomach upset, nausea, dizziness, and/or diarrhea.5,8
The following people should consult a physician before taking curcumin. Anyone who:
has gallstones or a bile duct obstruction
has acid reflux
is pregnant
recently had or will soon have surgery. Patients should stop using turmeric at least 2 weeks before a scheduled surgery
References: 1. Cavacurmin®: highly bioavailable curcumin. Wacker Group website. https://www.wacker.com/cms/en/industries/food/curcumin.jsp. Accessed May 3, 2018. 2. Data on file. Nutent Therapeutics; March 2018. 3. Desai K. A novel curcumin complex with superior efficacy to indomethacin and native curcumin in an inflammatory model. SF J Orthopedic Rheumatol. 2017;1(1):1-5. 4. Pipeline. Nutent Therapeutics website. https://nutenttherapeutics.com/pipeline. Accessed May 3, 2018. 5. Purpura M, Lowery RP, Wilson JM, Mannan H, Münch G, Razmovski-Naumovski V. Analysis of different innovative formulations of curcumin for improvedrelative oral bioavailability in human subjects. Eur J Nutr. 2018;57:929-938. 6. O'Connor A. Herbal supplements are often not what they seem. New York Times. November 2013. https://www.nytimes.com/2013/11/05/science/herbal-supplements-are-often-notwhat-they-seem.html. Accessed May 7, 2018. 7. National Center for Complementary and Integrative Health. Using dietary supplements wisely. National Institutes of Health website. https://nccih.nih.gov/health/supplements/wiseuse.htm. Last updated 2014.Accessed May 7, 2018. 8. Hewlings SJ, Kalman DS. Curcumin: a review of its effects on human health. Foods. 2017;6 (10):1-11.